If you're a small business owner, you undoubtedly spend countless hours juggling bills and balancing your books, not to mention all those extra hours you spend worrying about the future of the little business venture that grew and grew during the "good old days" before the recession that slammed small businesses.
In fact, you've been so busy that you've probably avoided planning your estate. Understandably, no one likes to look down the path of their life to the day they won't be there for their families or to run their business.  And estate planning – especially when a business is involved – is seldom simple, but there are some things you can do right now to protect your family and your business. Contact a Creative Business LawyerTM for a consultation and ask these questions:
I have created a last Will and Testament – can you go over it with me to make sure it's correct?
If you have an existing Will (especially if you have relocated to a new state), bring it with you. Chances are it needs to be updated or brought in line with your new state's law. You'll want to execute a new, revised Will with the assistance of your Creative Business LawyerTM and make sure you have at least two witnesses; without these folks, the whole Will could wind up in probate.
Do I need a buy-sell agreement for my business?
Do you want to go into business with your partner's spouse or children?  If not, consider having a buy-sell agreement among the owners of your business.  A buy-sell agreement, if structured properly, will have a structure for your partner's ownership interest to be purchased at a predetermined price upon disability and/or death.  Doing so will now will prevent a lot of potential heartache later.
Do I have a taxable estate?
Unless Congress acts in 2012, the estate tax comes back with a vengeance in 2013 with a $1 million exemption.  Meaning if you have more than $1 million in assets ($2 million if you are married and the assets are split evenly), everything above the exemption amount will be taxed at a 55% tax rate.  However, with some very simple planning, you can pass more onto your surviving spouse and beneficiaries completely free from the estate tax.
What should I set up for my kids? They're under 18 right now and if I die unexpectedly, what can I do to make sure they're covered?
You can set up any number of trusts to protect what you want your kids to get when you die. If your kids are grown but you have grandchildren to think about, you can also choose a generation-skipping trust to protect what you want them to receive. There are many trust options here, so make sure you provision one well – you don't want a 19-year-old rolling around town with the bankroll you spent your whole life building. Think of options like having them receive a monthly stipend until they reach a certain age, or only giving them the remainder of their trust if they finish college.
The following two tabs change content below.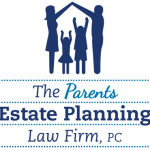 The Parents Estate Planning Law Firm, PC
At The Parents Estate Planning Law Firm, we answer your questions at your convenience; we stay in frequent communication; and we meet to discuss changes in life circumstances and in the law to ensure that your assets are protected.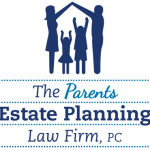 Latest posts by The Parents Estate Planning Law Firm, PC (see all)