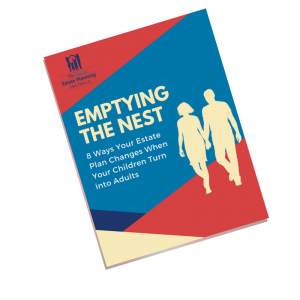 Download Your Copy of Our Free Resource, "Emptying the Nest: 8 Ways Your Estate Plan Changes When Your Children Turn Into Adults"
If your kids have officially flown the coop or that milestone is approaching, it's most likely time to start making updates to your estate plan—or get the ball rolling if you haven't created your plan yet. Many people think that estate planning is just for older, wealthy people. That couldn't be further from the truth. No matter where you are in life or how much you have in the bank, you should have a solid estate plan in place so that your children and your family aren't left scrambling if you pass away or become incapacitated. In this resource, we cover things like:
What parts of your estate plan you need to change once your kids turn 18

How and why your kids need to have estate plans in place for themselves too

The first steps in updating your estate plans

A detailing of what you should expect at this point in your life regarding your estate planning

And much, much more!
At The Parents Estate Planning Law Firm, we want to help you get ready for your life as an empty nester, and beyond. Enter your email below, click "submit," and our resource will download onto your computer or device, free of charge. 
Simply click here for your free copy!