When our daughters were little, David and I started a family tradition of giving back by crafting together to help those in need. Each November, our girls and I would make fleece tassel blankets to donate to Household Goods, a remarkable nonprofit (and a neighbor in Acton) that helps families by providing a full range of donated furniture and household items to them – free of charge.
This inspired our eldest, Hannah, to volunteer with the organization when she was in high school- organizing and distributing goods to local families at their center on Route 27.
These hands-on experiences helped our children understand how fortunate our family is to have the security of a warm, dry roof over our heads. That understanding has, thankfully, blossomed as they've grown, into a desire to help others in our community long beyond the holiday season, (and makes David and I very proud parents!)
They motivate us to be more and to do more, so this year as November- the traditional time of thanks- approached, the team at The Parents Estate Planning Law Firm, PC, decided that giving back would be the best way to express our gratitude for the year we have had together. This month, we're saying, "Thank you!" by returning to the charity nearest to our family's heart- Household Goods. We'll be collecting donations and volunteering as a firm, and encourage our friends and partners in the community to join us. If Household Goods or this particular giving campaign doesn't speak to you, I hope you will find something-another cause or organization in need of resources, volunteers, or voices- that does.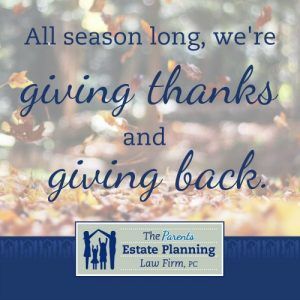 Household Goods needs a steady stream of clean, usable furniture and household items to outfit more than 300 individuals and families in need each month. Items of particular need this time of year include Queen blankets and sheets, like-new pillows, bath towels and hand towels, and silverware.
UPDATE: Because of such a great response, we'll be continuing to collect, during business hours, through Wednesday, November 30th!
Through Monday, Nov. 21st, we'll be collecting these and other housewares at our offices, for donation. Every family that donates with us will be entered to win a basket of kitchen tools and essentials from Acton's Kitchen Outfitters (a $125 value), just in time for Thanksgiving! The wonderful staff there have also agreed to match this prize with an identical gift for a Household Goods family.
Volunteers are the lifeblood of this nonprofit's success helping people in need in our community. Many small efforts joined together yield great results! As a team, we'll be volunteering at Household Goods, on Tuesday, Nov. 15th, doing whatever we can (no task too small!) to help them advance their mission. Volunteer tasks could include, cleaning, painting, unloading deliveries, and organizing goods. If you'd like information about how you can volunteer, visit www.householdgoods.org or call 978-635-1710.
For donation hours and more information about this campaign, visit the campaign page or call 978-263-6900.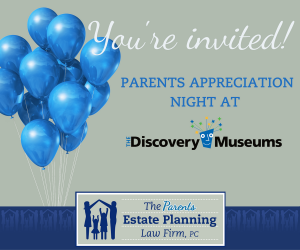 We'll also be giving back to parents, with a fun and free night at the museum, by opening up The Discovery Museums to you after-hours. Please RSVP, and feel free to bring a friend or two!
If you have any questions about that event, our firm, or protecting your family please contact us and let us know.
To your family's health, wealth and happiness this season of thanks, and all year long!
Paula
Paula Feakes is the Marketing and Client Services Director at The Parents Estate Planning Law Firm, PC.  Her husband, Attorney David Feakes, helps parents protect the people they love the most. For more information, contact Paula at (978) 263-6900 or [email protected].
The following two tabs change content below.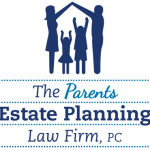 The Parents Estate Planning Law Firm, PC
At The Parents Estate Planning Law Firm, we answer your questions at your convenience; we stay in frequent communication; and we meet to discuss changes in life circumstances and in the law to ensure that your assets are protected.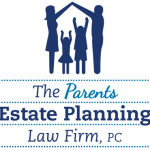 Latest posts by The Parents Estate Planning Law Firm, PC (see all)